Pipe Line
Round Pipe Manufacturing System
The Vicon Pipe Line manufactures precision round pipe sections automatically and fast. Sizes range from 3" to 24" diameter with either the well known reeves or modified lock seams. The Vicon Pipe Line produces profitable duct work.
Reliable performance, high productivity and superior part transfer are just the beginning. The Vicon Pipe Line is backed by our exclusive commitment to provide you with nationwide one-call service, training and support for as long as you own your machine.
Vicon Coil Line software program for Windows®
ViSoft Software is menu-driven, user-friendly and can be set to SMACNA standards or customized to your shop standards. Continually updated and supported by Vicon's experienced team of programming engineers, ViSoft ensures enhanced productivity and superb part accuracy.

Machine Justification Calculator
Click on the calculator to the left to view which Vicon machine is best suited for your needs.
Segments of the Vicon Pipe Line
Pipe Line Express
Automatic Round Pipe Blanking System
The Pipe-Line Express includes an uncoiler (patented), feeder, straightener unit, beader, notching unit and heavy duty shear.

The precision servo drive on the straightener delivers accurate blanks every time for consistent pipe diameters. Underfed coil cradles provide easy threading and allow a quick change to another coil when needed.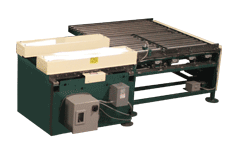 Pipe Lockseam System
Automatic Round Pipe Lock Seam System
The system can be provided with a turn around roll former to allow switching from one lock style to the other in just minutes. Pipe thickness can range from 30 to 24 gauge and pipe length can range from 2' to 5'.

The dual head lock seam roll former automatically sets to the proper location with a servo drive and is controlled by the single input operator console.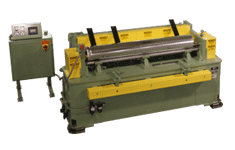 Nor Pipe Roll System
Automatic Round Pipe System
The pipe roller is supplied by Nor and is controlled by a microprocessor. The male end of the pipe is crimped during the bending cycle and the lock seams remain uncrushed by being "jumped" over during the automatic process.

As pipes are completed, the line operator can hold the first piece in place as the part exits the roller, which allows the next part to feed inside the prior piece. This is done repetitiously for nesting and packaging purposes.
Other machines you might be interested in: