Vi-Stream Waterjet Liner Cutting Table
Duct Liner Cutting System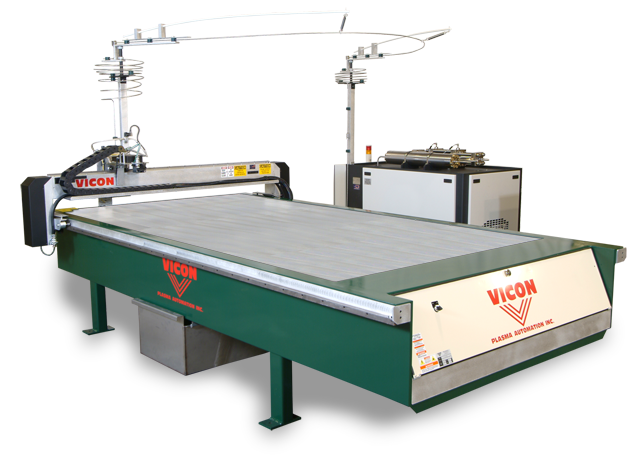 The Vi-Stream Waterjet Liner Cutting System combines the fastest, most accurate liner-cutting technology with Vicon's exceptional engineering and software development capabilities to produce huge volumes of liner including but not limited to Armaflex® and K-Flex® insulation.
This table is able to handle any type of liner and is offered with a standard 5' x 10' cutting area. Optional table sizes include 5' x 20', 6' x 10' and 6' x 20'.
OPTIMIZE WORK FLOW!
With the patented Bar Code Scanning option, sorting problems are a thing of the past. Coordinating the flow of sheet metal and duct liner through the shop is made much simpler and faster. Sheet metal parts are scanned, and the machine is automatically programmed to produce the corresponding downsized duct liner. Superior true-shape nesting minimizes waste.
Features & Benefits
Aluminum gantry contributes to high speed liner cutting capability with fast and accurate cornering and positioning
Size options of 5' x 10' to 6' x 20' cutting area
The table is constructed of a one-piece steel frame and has a tapered water basin with an operator accessible clean out
A special porous bed of water jet bricks provides a long-lasting and firm table cutting surface. It also disperses the high pressure jet stream and allows fast drainage.
Rugged drives are sized for minimizing system wear and tear while providing peek performance
Traversing speed up to 2,000 inches per minute
Dual rack and pinion drives provide uniform and accurate motion in the X and Y axis
The cutting head uses a position sensor to maintain proper working height. It lets the operator know when the height is correct by a LED indicator
A high pressure gauge located at eye level allows easy pressure monitoring for the table operator
In the X axis, an oversized 1" dual rack and pinion linear-drive provides machine longevity and durability
Our high pressure line runs overhead from the intensifier and maintains a low-profile design that will fit under an 8' ceiling
All high pressure lines are supported by double isolation mounts
The clock spring design eliminates the need for swivel joints in the high pressure line. This greatly reduces the amount of maintenance needed for leakage problems. Swivels at the flex points would require more maintenance due to water leakage.
This machine can cut various types of liner including but not limited to Armaflex® and K-Flex® insulation

Machine Justification Calculator
Click on the calculator to the left to view how quickly the Vi-Stream pays for itself and starts making a profit.
Other machines you might be interested in: